Shopping Cart
Your Cart is Empty
There was an error with PayPal
Click here to try again
Thank you for your business!
You should be receiving an order confirmation from Paypal shortly.
Exit Shopping Cart
Covid-19 has had a wide ranging and unfortunate impact on both people and businesses, and is presently leaving few unscathed as we now make adjustments to our normal routines.
Unfortunately while quarantines and social distancing are not unfamiliar concepts to most farmers, it is going to have a notable effect on some of our usual processes, namely farm visits. At this time the province has restricted gatherings and has imposed restrictions on non-essential services.  Although farming itself is considered essential, some of our more social activities, including farm visits, alpaca visits, and treks unfortunately must be post-poned as per the requirements.
It is with regret that we must note that this will have an effect on all subscribers to our "Sponsor-an-Alpaca" program. As all tiers of the program include farm visits with an individual's chosen alpaca, we must at this time post-pone any visits until restrictions are lifted and we can safetly welcome visitors to the farm. We would like to assure visitors and Sponsors that when the time comes, appropriate safety measures will be in place to reduce risk, including the appropriate access to hand-sanitizer, disinfection of tack, and social distancing.
As visits are popular as a summer activity, we know this will affect some of our Sponsors annual summer plans. Because we do not yet know how long we may be under these restrictions while we wait for that curve to flatten, we will be extending and renewing all Sponsor-an-Alpaca sponsorships for another year, free of charge, so that hopefully by this time next year everyone who has sponsored an animal in 2019 and 2020 will be able to fully enjoy the benefits of their sponsorship, while still recieving updates about their respective animals.
Please, do not hesitate to contact us if you have any additional questions about farm visits or Sponsorship (or the status of your sponsorship). While we may not be able to visit with everyone in our usual fashion, everyone here at Northern Mystery Alpacas is still here to support everyone during this time of stress as best as we can virtually.
We sincerely hope that everyone stays safe and healthy during this time, and we look forward to continuing to provide updates as we know more.

After a busy few days and a long, but scenic drive into British Columbia, we were pleased to send off several of our animals into a new home with exciting prospects. Although it is always bittersweet to see the animals we so very much adore find newer (and much greener) pastures, it is always wonderful when we know they are going to a good home where they will be well cared for an given opportunities that we cannot always provide on our own. We just knew Kim and her family would make the perfect home for this quintet when they came out for a visit and met the animals in person last week.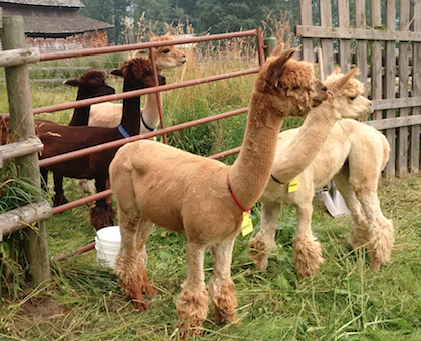 So thank you so much Kim for your purchase of ECA Baxter, Mercury, AAC Athena, Vida Loca Hespera, and Northern Mystery's Selene! We know you guys are going to do a wonderful job, and we hope that you get many years of enjoyment out of these guys!
Things are winding down as we conclude our 2018 Cria season. The busiest birthing season we have had in several years, it welcomed 4 cria into the herd as they hit the ground running. On top of being very busy, this was an exciting season for us as we prepared to try out several maiden dams, pairing them with our champion male Bocelli. We tested him last year with Roxene and were blown away with what he produced in Erasmus. Needless to say, our hopes were high this season, and boy did he and the girls do a stellar job. We also put his half-sister, Angelica to the test, pairing her with Prairie Spirit's new male, Snowmass Velvetier, which was very exciting for us too. It is rare that we do off-site breedings, so when everything took and Angelica delivered a stunning male on the 28th, we were ecstatic. 
This year's crop includes an even mix of males and females, in nearly every shade and colour. Legacy was the first of our girls to drop, producing a lovely beige female by Bocelli. Dubbed "ShyneOnBrightly", "Shyne" is proving to be an aristocratic little female with an abundance of crimpy, soft fleece that varies from beige to cream. She is very mild mannered when handled, and very on top of everything when it comes to seeing what is going on.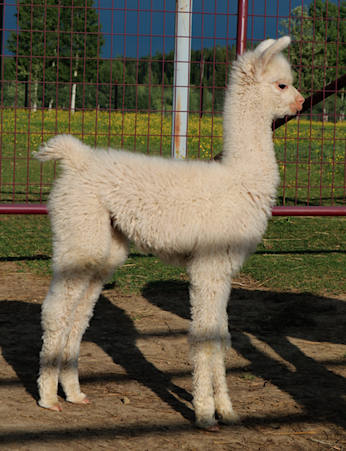 We were very pleased when Legacy showed a solid aptitude for mothering despite being a first-time dam. Sometimes, it seems as though it takes them a while to figure out that the being that just dropped out of them is theirs, and is their responsibility. We has no such issues with Legacy, who has proven herself an attentive, but not overly stressed, mother. She allows weigh-ins and baby duties without any problem, and is excellent with the other babies as well.
Paz was next in line, producing a gorgeous rosy brown female dubbed "Vesta", after both the Asteroid and the Roman goddess of the Hearth and Home. Also by Bocelli, we were surprised when both animals produced a cria that was so much darker than them both, and given the odd tone of Vesta's fleece, we are excited to see just what colour it truly is come shearing time. After Paz tragically lost her first cria, Poseiden, several years ago to a terrible accident, we were very pleased when she behaviour tested as positive after her breedings last year.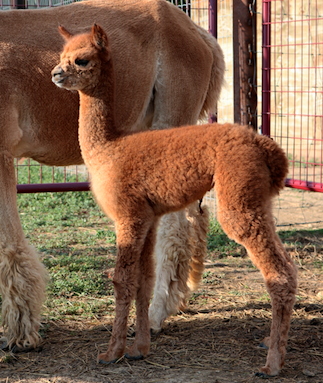 She has since proven to be as excellent a dam for Vesta as she was for Poseiden. With an abundance of milk (which, by the weight Vesta is gaining, must be pretty rich also!) and an awesome temperament, Vesta is thriving and Paz seems at ease. There was some initial stress with handling that prompted us to seperate the two on their own so Paz could be sure her baby was only staying with her-- we suspect in part because of her experience losing Poseiden when she did-- but after a few days she had visibly relaxed and has been quite happy since.
Shahkell was the last of our Bocelli bred girls to drop, producing a gorgeous dark brown male dubbed "Khagan". This boy is beefy all around, with a stout frame and a ton of coverage, promising much quality time spent with him in the future keeping his field of vision clear.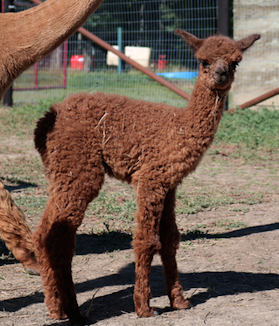 No stranger to raising cria of her own, Shahkell had an easy birth and has been having a stellar time keeping up with her latest son. He is thriving and growing like a weed, which is exactly what we like to see!
Angelica was the last female of the season to have her cria, after having been a late breeding last year. Bred to Snowmass Velvetier, although we were hoping for a cria with it's parents lovely fawn fleece, we were just as pleased when she delivered a little light fawn male on July 28th. In keeping with the Angel theme with the maternal line, he was dubbed "Hafaza". This little guy is almost too adorable to comprehend right now, so we are extremely biased when it comes to him. Full faced and extremely soft, we are already excited to see what his first histograms look like, and it is almost taking too long for his fleece to grow so we can see how it matures!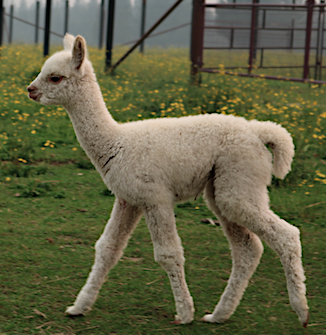 A first time dam, but also more mature in age than some of the other maiden's bred last year, the extra time seems to have done Angelica some good, as she has taken to mothering like she's been doing it all her life. Hafaza had a textbook birth, hitting the ground within 15 minutes of making his first appearance, he was on his feet in just under 20 minutes, and nursing strongly within another half hour. Angelica patiently waited with him until he got his bearings, and seemingly "talked" him through things as she quietly hummed to him.
Our breeding season this year also included two other Bocelli births, to a pair of maiden boarders who started us off with a bang. Two textbook births, to a pair of medium fawn babies (male and female respectively), both dams took some convincing that their cria needed to actually nurse from them, but quickly caught on and have taken to the task of motherhood admirably. 
Now that birthing season is done, we look forward to our last breedings for the summer. Queued this year are several pairings for Chaz, whih we are excited to see the results of. We will be putting him to Eos and Saharah, with the hopes of producing some pretty solidly built, potentially interestingly-coloured cria for the 2019 season.
/