Shopping Cart
Your Cart is Empty
There was an error with PayPal
Click here to try again
Thank you for your business!
You should be receiving an order confirmation from Paypal shortly.
Exit Shopping Cart
After what has felt like months of kerfluffles with technical difficulties and retrieving our images from our previous image host, we now are back up and running with fully functioning images again, and newly updated pages.
We have been quite busy all summer, and leading into the fall post shearing. Roxcene delivered a stunning baby boy on July 4th, the day after her expected due date, which has pleased us immensely. It is entirely possible that we are a little bit biased, b...
Read Full Post »
Finally, after two weeks of shearing (and more than a little bit of waiting for the rain storms to subside) we are pleased to say that everyone is now tastefully naked and ready for summer (by everyone, we do mean the alpacas!).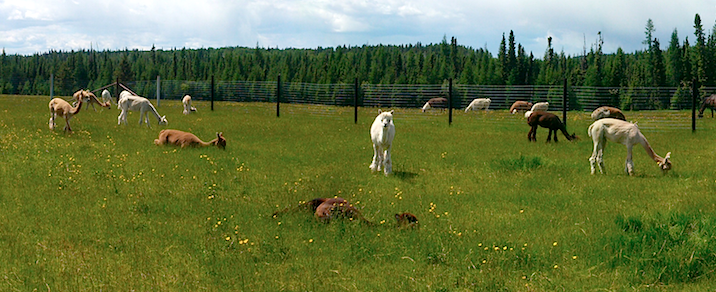 Now that shearing is completed, the next hurdles we face are both breeding and birthing season. We're ...
Read Full Post »
Hello all! 
As you can see, our site is sporting a slightly different look. Our web provider thought it was time to "gently" nudge us into the future, as such the site has recieved a much needed facelift to bring it up to its most current platform. 
As a result, everything has been refurbished, and we have a host of new pages with new features now online. Animals pages now include multi-photo slide shows as well as some nifty, borderless tables featuring thei...
Read Full Post »
/